Enveloped in nature, our four buildings provide the ideal leisure space.
Outside your window is a majestic view of the 330,000 square meters Tamura Forest. Relax and unwind amongst the serenity of nature.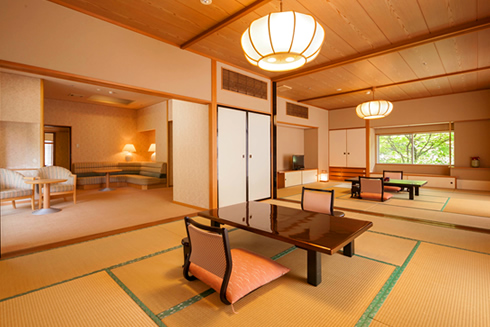 Premium Room
Includes a private open air onsen.
An extra-large private outdoor onsen provides our finest room with a touch of elegant luxury. Adjoining the living room on one side is a pair of 21 and 16 square meter Japanese style tatami rooms, and on the other side a spacious Western style room with two twin beds. Outside is a private all natural and constantly flowing open air onsen, in addition to another bath indoors constructed of Japanese cypress. Enjoy a tranquil moment of luxury.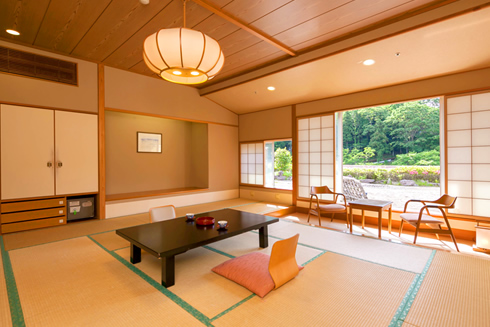 Seizankan
A soothing departure to the vast expanse of nature is just outside your window
Nestled amongst the mountains and a little farther from the hotel entrance this building boasts an especially relaxing and tranquil atmosphere.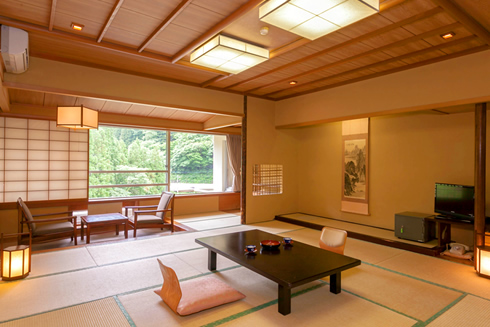 Seiryukan
A murmuring river flowing through lush green nature is the backdrop to unfettered relaxation.
Ensconced between a tranquil river and the mountains, this building features many spacious rooms with open floor plans and connected rooms which are very popular among groups and families looking to unwind, and enjoy time together.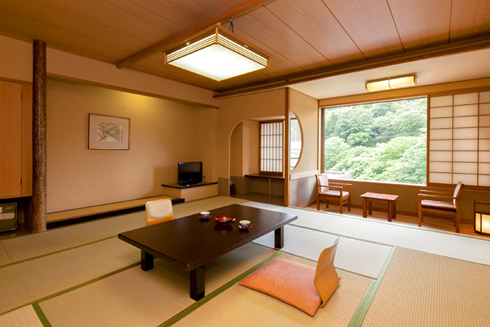 Seishokan
Exquisitely serene. Quintessentially Japanese.
Purely Japanese, the spacious and warm atmosphere provides a special accent making these rooms all the more inviting. All rooms equipped with toilet, and baths.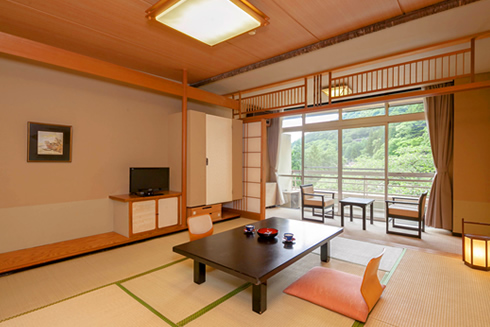 Seishinkan
Comfort accentuated by the sounds of nature
The murmur of the river enhances cozy rooms that still capture the feeling of older Japan. This building features our most reasonably priced rooms. Rooms are not equipped with a bath.
Hotel Room Details
Number of rooms: 99 rooms
Room Facilities: All rooms are equipped with heating and air conditioning, televisions, and an empty refrigerator you're free to use.
Facilities
After enjoying our massive 420 square meter sprawling banquet room after your bath our bar named "asuka", our karaoke studio or our late night eatery "Yuyakushichaya" are at your disposal.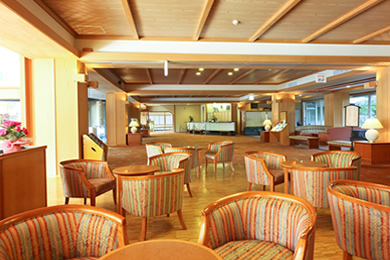 Lobby and Lounge
Spacious and Comfortable. Spacious and relaxing, our lobby and lounge are both inviting and comfortable.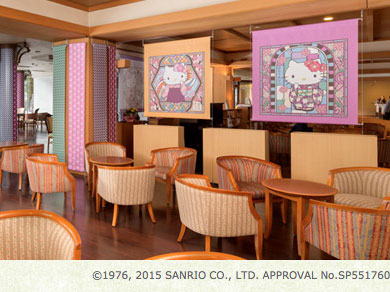 Hello Kitty Café Floresta
World famous Hello Kitty is the theme to our café which features inarizushi and green tea, our special "high collar" curry, a "prim and proper" blend of coffee as well as a local runner bean confection. Our nostalgic café even has a spot where you can take a picture with Kitty chan herself!
Our Hot Spring: Super and Natural
For over 500 hundred years, our 100% natural hot spring has been a wealth of comfort and relaxation. Our sister location Shima Tamura has a variety of baths for your enjoyment as well (additional fees apply).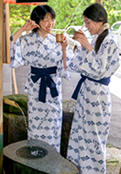 A Drinkable Spring: Enjoy the Taste of Shima Onsen
Not only are our waters good for your body and skin, but they are among approx. 3% of hot spring waters in Japan that you can actually drink, and have been famed for ages as waters that are good for your stomach and intestines. Please take the chance to try these fabled waters whenever you'd like to the left of the main entrance.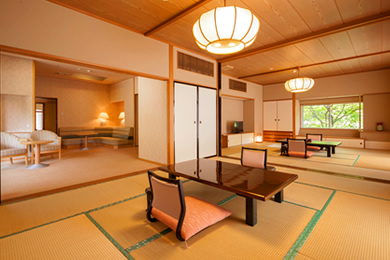 Premium Rooms: An Elegant Escape
For those who want to indulge themselves our premium rooms come with a private outdoor bath so you can enjoy a particularly extravagant time.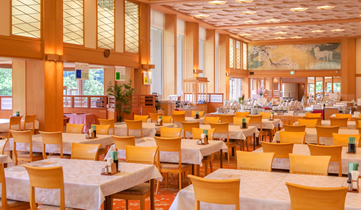 Gran Tierra Hall: The Freedom of Openness
Our expansive dining hall is the ideal place to treat yourself to a smorgasbord of culinary creations.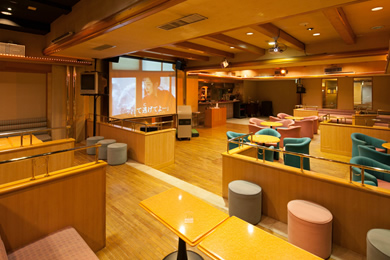 Club Asuka: The Night Side of Shima Onsen.
Enjoy a special relaxing time in a sophisticated and relaxing environment while you get acquainted with the tastes of fine spirits and liqueurs.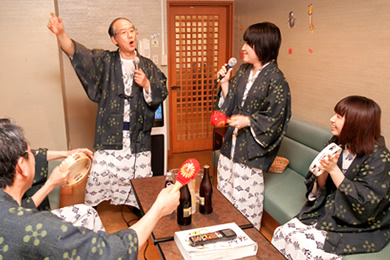 Karaoke Studio: Fun for All
Sing your heart out with friends and family in our karaoke studio. For those who want to let loose we have an all you can drink plan. Please feel free to inquire.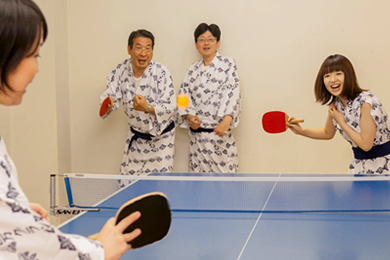 Table Tennis Corner: Get into the Game
After your meal, or time in the hot spring, why not ratchet up the good times with a game of table tennis?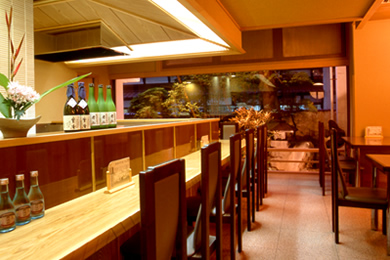 Yuyakushichaya: Late Night Eatery
Still in the mood for a couple of drinks after the party? Or is it time for a hearty bowl of ramen to finish the night off? Whatever you're in the mood for, our late night eatery is at your service.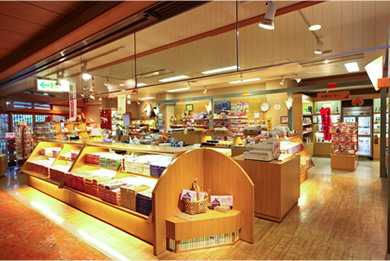 Souvenir Shop: Bring Home Some Memories
We've got plenty of original goods along with an assortment of locally produced items, and locally brewed Japanese sake as well. Bring home a memento of your visit to the ones you love.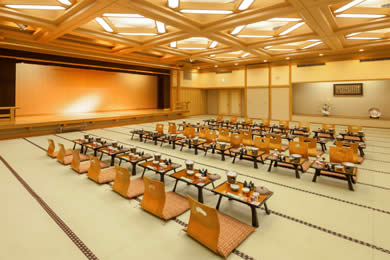 Main Banquet Hall: A Great Place to Congregate
Our sprawling 420 square meter banquet room can be used by large groups or for small functions depending on your needs.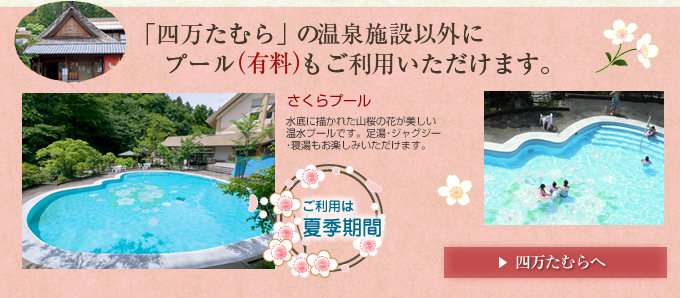 Shima Tamura also has a pool (extra fee applies) to go along with its embarrassment of hot springs. The Sakura pool is a heated pool adorned with cherry blossoms painted on the bottom. In addition there is also a foot bath, Jacuzzi, and even a "sleeping bath" where you can enjoy a lie down, all for your enjoyment.
The Sakura Pool is open during the summer months.
Facility Info
Check in time: 15:00
Check out time: 10:00
Parking: 150 spaces available (free of charge)
Pool: Open in the summer months