Exquisitely natural and healthy hot spring water.
We are blessed with over 1,600 liters of water flowing from our spring every minute. Our leisurely Tamura forest onsen awaits. Indulge and immerse yourself.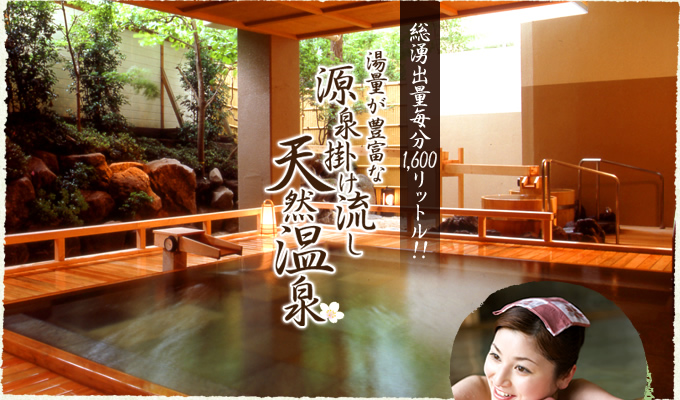 Located deep in the forest, our hot spring been in use for over 500 years. Known far and wide for the esthetic benefits for your skin our hot spring waters are as abundant as they are therapeutic. Enveloped in a wealth of nature, our onsen is available for you to use as much as you please.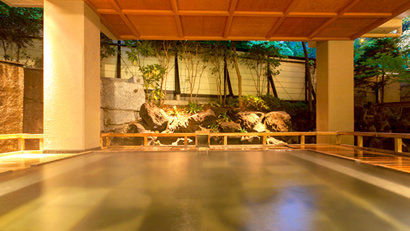 The Muro Grand Bath
Our onsen is a 24 hour kakenagashi onsen. Kakenagashi means that the water from the spring flows endlessly 24 hours a day into our onsen. Descending steps into the bath evoke a feeling of waves, and the design of our main bath is inspired by Japanese Noh theatre and constructed out of hinoki (Japanese cypress). Two barrel shaped baths round out the bathing options of the Muro Grand Bath.
Shima Grand Hotel's hot spring water contains over 3 times the normal amount of metasilicic acid. This natural moisturizing acid plays a key role in helping your body develop collagen which leaves your skin feeling soft and smooth, and is particularly popular with our female clientele.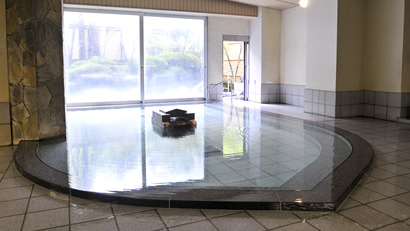 The Iwafune Grand Bath
Feel at ease in this spacious stone crafted bath built in the shape of a ship. The adjoining steam room also utilizes our natural spring water and is yet another way for you to enjoy the bounty of Shima Onsen.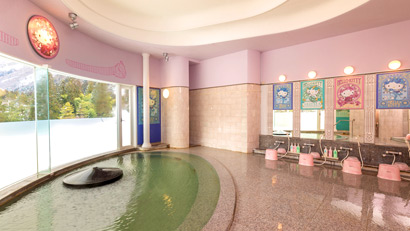 Hello Kitty Maerchen Bath
The moment the elevator doors open to the 7th and top floor your journey into Hello Kitty's onsen world begins. Three images of Hello Kitty symbolizing the Tamura forest, our beautifying water, and the clean pure stream that continually replenish our baths are your guide to this fairy tale themed bath.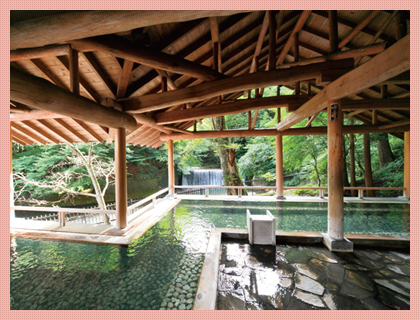 Need more onsen?
Our sister location, Shima Tamura, is a traditional Japanese style hotel (ryokan) and is located just a 5 minute walk up the hill, and their legendary array of 7 decadent baths are also at your disposal. A separate 500 yen fee applies.
The Virtues of Our Natural Hot Spring
Naturally occurring minerals: sodium, calcium chloride, sulfate, (neutral hypotonic high temperature hot spring).
Temperature: 73-85 degrees Celsius.
Effective for Treating: Nerve pain, rheumatism, sore muscles, chronic digestive disorders, exhaustion, chronic skin disease, feminine disorders.
Business Hours: Open 24 hours (Shima Tamura does have time restrictions)
Amenities: Body soap, shampoo, conditioner, soap, combs, hair dryer, razors (men's only)