Enjoy our extravagant cuisine to your heart's content.
Locally sourced ingredients are expertly crafted by our skilled chefs to produce a luxurious all you can eat buffet. The water from our hot spring is not only safe to drink, it's healthy, and we use the water in preparing a wide variety of our dishes. Go ahead and indulge yourself.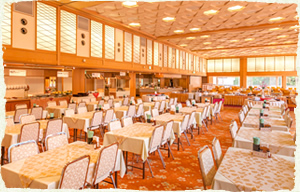 A la carte items
Abalone

2,000 yen

Broiled Sea Bream

5,000 yen, serves 4-5 people

Seasonal Tempura

1,200 yen, 1 person serving

Hoba Miso Yaki

2,000 yen (meat and vegetables grilled with miso on a magnolia leaf)

Crab Legs

1,500 yen (picture is a 5 person serving)

Grilled Salted Char Fish

1,000 yen, 1 person serving

Whole (Char) Fish Sashimi

1,200 yen, 1 person serving

Japanese Sake in Bamboo

1,000 yen, 1 person serving

Japanese Sake Taster Set

1,000 yen, 1 person serving
Menu may change according to season.
Group Meal Plans
For groups of 8 person or more, we have the following meal plans.
The Exquisite Bounty of Shima Onsen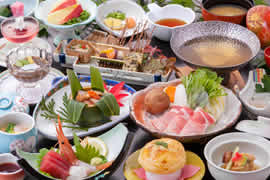 12,000 yen per person
The plentiful riches of both the ocean and mountains are showcased in this course dinner. Locally produced and locally consumed is a theme our head chef emphasizes with pride in this first class Japanese style course meal. Ingredients and dishes will change according to the season.
Shima Onsen's Signature Selection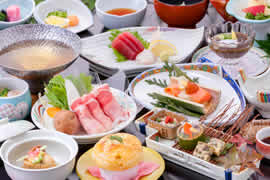 10,000 yen per person
The emphasis is on variety in this high quality Japanese style course meal that features a stunning array of the finest tastes of Shima Onsen at a reasonable price.

Traditional Kaiseki
For those who would like to experience the fine traditional Japanese dining experience known as kaiseki ryori (a traditional and fancy Japanese course meal) please visit our sister hotel next door called Shima Tamura.
Experience authentic kaiseki ryori at Shima Tamura. Each ingredient is meticulously prepared according to the time of season (start, middle or end). Accordingly the same dish may taste differently according to both the season and the point in said season, and an ingredient may be prepared completely differently as well. Our chef proudly prepares the finest expression of every season.
From reasonably priced to the most luxurious, carefully selected and painstakingly prepared kaiseki ryori courses, we offer the finest of the four seasons of Shima we're sure you'll love.